The Beautybag goes on tour, performing songs from their debut album Heavy Luggage – check out the tour dates!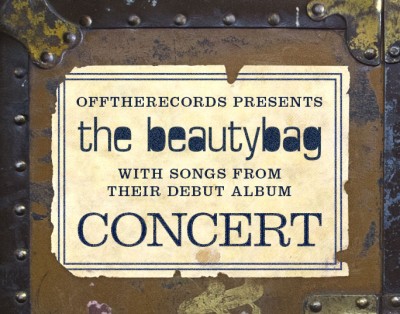 13.09. Protestfestivalen, Kristiansand
14.09. Charlies, Kristiansand
14.10. Café Mono, Oslo – official release concert!
17.10. Draaben, Sandefjord 21:00
18.10. Frk. Larsen, Kristiansand
19.10. Café Det Lindvedske
20.10. Aases Verden, Evje
…look out for more dates!
The band:
Richard Nygård – vocal and guitar, Morten Minothi Kristiansen – double bass and backing vocal, Eivind Molden Norseng – el-guitar, acoustic guitar and pedal steel guitar, Sigmund Nilsen – drums, and André Viervoll – Hammon organ.
The music of the Beautybag is a collection of travel notes, a double bottom suitcase, a forgotten diary, endless love serenades and shameless gossip.
The band is led by singer-songwriter Richard Nygård. He studied visual arts at the Oslo National Academy of the Arts. During a study stay in Antwerp he decided to specialize in songwriting and performing.
The Beautybag has a strong focus on atmospheric sounds and polyphonic singing. Rhythmically the band is a mix between Americana and british pop. All songs are written by Richard Nygaard, and arranged by The Beautybag.